There is already a lot of information on the landing page. Below you can find more descriptions as well as banner ads that you can use.
The Playing Piano with Chord Bundle consists of 3 ebooks. One of them – Playing Piano with Chords – comes with audio and video content.
Additional information, taken from the back covers:
Playing Piano with Chords
Many songs in popular music are built around just a few chords. Explore and learn those chords and apply them to play pop, rock, blues, funk, neo soul and jazz. Take your piano playing to the next level and learn a wealth of tunes, chords and techniques in all styles!
You will learn:
How to use chords as building blocks for blues, rock, pop, funk, classical, jazz & neo soul
Easy ways to apply and voice chords and turn them into music
Tips and formulas to create your own chord progressions and songs in your style
Common chord types and voicings and how to apply them
Improvisation techniques for all styles
You will get:
Easy to read chord charts
100+ audio tracks
Full songs for you to play with drum accompaniment and play-along tracks
Video content with sheet music and a virtual keyboard in all styles (80+ minutes)
Piano Shortcuts
Discover ways to master songs much

faster and cut your practice time

Formulate your goals to focus your piano practice and turn them into easy steps

Tap into your imagination to learn faster

Express yourself at the piano

Understand the relationship between relaxation and speed

Make your piano practice more fun

Apply the latest discoveries in psychology and neuroscience to playing and practicing the piano

Piano Chord Charts
Easy to read Chord Charts and Scale Charts in all 12 Keys

Sheet Music

Fingerings for both Hands

Major, Minor, Pentatonic and Blues Scales

Major, Minor, Add9, Sus4, 6, Dom7,

Maj7, Min7, 9 & Diminished Chords
Banners (right click on image to download):
300×250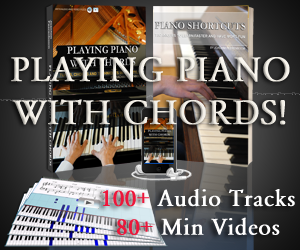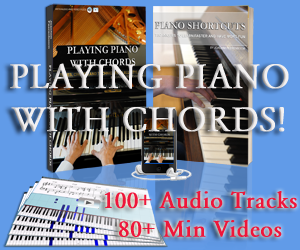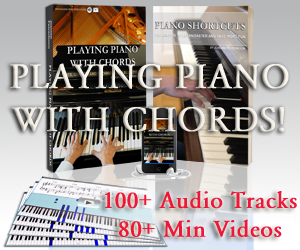 160×600





728×90